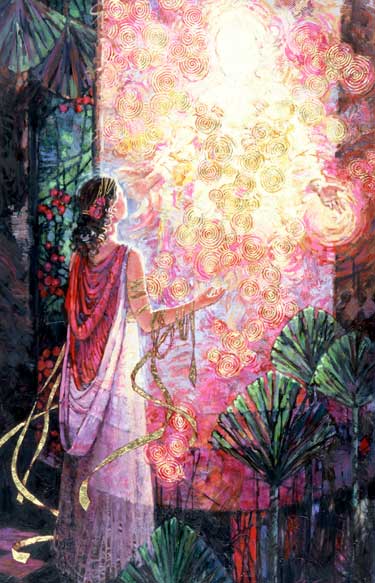 The Gazing Bride
"The Gazing Bride" depicts the Lord Jesus as He manifests a portion of His transcendent beauty to the Bride. His face and being are obscured by unapproachable light - a light that fills the atmosphere with explosions of brilliant, golden spirals. Fascinated by His beauty, the maiden fixes her gaze upon Him.

The painting reveals that something remarkable is taking place as she focuses on His glory. She is being transformed! "But we all, with unveiled face, beholding as in a mirror the glory of the Lord, are being transformed into the same image from glory to glory." (2 Cor. 3:18)

The transformation process is represented by subtle concentric arcs in the lower part of the canvas. The arcs interrupt the visual field with gradations of color and value, varying from light to dark. The upper portion of her dress - that part closest to the glory of Christ - is a pure white, while the lowest portion is dark and ragged. ("All our righteousnesses are like filthy rags." Isa. 64:6)

The Bride wears a red cape symbolic of the blood covering for sin that Christ provided for her. The golden ribbons on her arms signify that she is a bondservant of the Most High God, though she knows His bonds as cords of love. The Bride, exhilarated by Christ's love and beauty, prays that she will be brought into her full destiny as "a glorious Church, without spot or wrinkle." (Eph. 5:27)

The Gazing Bride
Original, Oil on Canvas 50" x 30"
Giclees available on canvas and paper. Contact artist for custom sizes.




Back to Portfolio



For additional resources and information regarding the Bride of Christ, visit ihop.org.